I assure you that my butt is not lumpy! It's just my shirt sitting
on my leggings wrong! I'm just too tired to change/care about how
I look today.....it has been a busy day. :)
How Far Along:
31 weeks!
How Big Is Baby Russ:
Baby Russ is between 15.2 to 16.7 inches long, and about 3.3 pounds. He is as big as a Pineapple! Holy Mackerel--imagine that--a Pineapple inside my belly!
Total Weight Gain: 27 pounds.
Stretch Marks: Nope. I am pretty sure that Baby Russ just went through other growth spurt because my belly seems to be bigger than last week. Even people are starting to ask when I am due and what gender I am having lately! I guess I look really pregnant.
Maternity Clothes: Using the same stuff I have in my stock and I've been stocking up on nursing bras as well!
Sleep: Not the best lately. It's not because of Baby Russ, but due to storms and that means one very scared Basset dog to console and cuddle with! My dreams have been getting more vivid, and unpleasant. I'm pretty sure it has to do a lot my subconscious anxiety with wanting to make sure Baby Russ is completely healthy and well.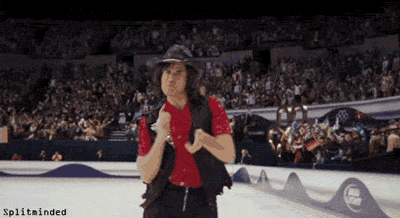 (Blades of Glory; victory dance)
Best Moment(s) of the Week: Shopping with my mom, deep cleaning both nursery room and my Jeep (who knew that having my Jeep cleaned inside and outside, oil changed and fixed due to recall situation would make this lady very happy), having my aunts come over to help decorate the nursery room (it's still work in the progress--pictures to come soon, I promise), feeling my little guy moving around, and just knowing that everything is almost in the place for my little guy to come home! I feel pretty darned accomplished.
See, hear this woman roar! I built this all by myself!
I plan on fixing the tray and adjust the belt tomorrow
when I have more energy, ha!
Clothes (Newborn, 0-3, 3-6, and some 6 months), bibs, receiving blankets, towels, and burping blanketsall WASHED and put away! Can you see that Baby Russ is spoiled?
Food Craving(s):
I was craving for crab cakes for some reason! I searched for it everywhere and was unable to find any...until I shopped at Target. I was quite happy to have my crab cakes!
Food Aversion(s): Unchanged. I tried eating ice cream with Starbucks Java Chip flavor and really did not like it. It just didn't agree with my stomach. Not sure if it was my Lactose Intolerance acting up or if Baby Russ hated it.
Symptoms: Like I mention every week; sore ribs--that will never change. It's starting to spread all over underneath my right rib cage, and my skin/muscle is very sensitive in that area. Sore lower back due to my loosening hips so I feel like I am waddling a bit. Out of breath if I do too much at time (which makes my nesting instinct harder because if I am physically able then I would have been cleaning nonstop all day long instead of spacing it out over the week). Swollen feet if I am on them for too long! Sadly, I've been a bit more irritable lately mostly because of my sore ribs, and my BS /stupid people tolerance has dropped to nearly empty these days.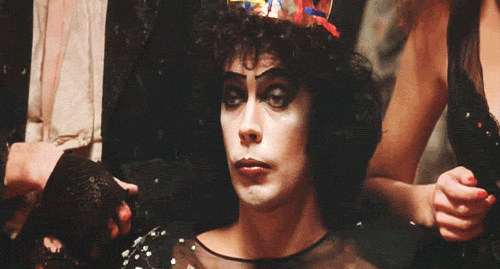 This look is probably the most common I have these days whilst dealing with people who drives me nuts.


(Rocky Horror Picture Show)
Labor Signs:
Some Braxton-Hicks if I am overdoing it too much. Otherwise not much happening. Baby Russ won't be budging for other month or so! :)
Movements: My little guy has been getting hiccups lately. I can tell because his hiccuping has a very rhythmic pattern to it and it can last as long as half hour at time! Interesting fact: Hiccuping is a form of practice for in-utero babies to prepare themselves to breathe once they are born (It doesn't mean they are actually breathing in the womb--it just means they are practicing their throat, mouth and lungs reflexes while swallowing amniotic fluid).
What Do I Miss: My energy. I wish I have my 2nd trimester energy to be able to accomplish physical chores! Then everything will be get done way faster.
Belly Button In or Out: Out.
Wedding Ring On or Off: I have been trying to find a nice fake ring in a bigger size to wear and haven't really found any.
Looking Forward To: Having the nursery room completely done once the changing table has arrived and posting pictures! Seeing more of Mommies in my group having their babies. Just knowing that I am going to have my boy in.....8 WEEKS!
Next Appointment: Tuesday June 26th; just a regular appointment with blood test.