I am doing a link-up with The Duggans Family. Do check out Ali's blog. She's a fantastic blogger with a lot of great things to share!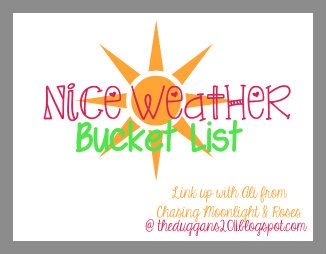 Because of her zest for doing something fun this summer, she has created a bucket list, and it got me thinking....Well, I want to make one for myself as well! I tried to make my bucket list as realistic as possible so I can meet those goals. Otherwise, I know I will not get them done.
I am quite excited with the list I've made. Most of them are self-explanatory. My biggest hope is to meet all 15 goals. I want to have fun goals that I can learn more about this little town that I am living in. I did live here for 3 years during my college years, but I didn't get off the campus to explore community events. So this summer I will be doing some of that!
Stick around this summer, and see if I can get all fifteen goals met!